I have always been attracted to the tree people....
Even when I was a young girl, the forest behind my house was one of my  favorite places to play. I could spend hours there exploring or sitting in my favorite tree. As I have continued on my spiritual journey throughout my life, I realize I was just accessing another spiritual plane instead of just making it up in my mind.  My mind and body feel totally alive when I am among trees. It also gives me a sense of peace. I find nature, especially trees to be one of the easiest places to meditate and calm your busy mind.
While living here in  Colorado , we often hike through the Aspen Forest. I have learned that the Aspen forest is the largest living organism since all the trees come from a  single root system. These trees are heavily relied on by numerous species of animals, and aspen was also a great source of food, medicine, and wood for Native Americans.
Although native people had reverence for these trees, it did not deter them from making use of these important resources. Wherever possible, they avoided cutting down trees, and instead harvested useful parts in a sustainable and good way. The gratitude and rituals associated with the felling of these trees made it possible for the people to do this in a humble way.
The inner bark was considered a sweet treat for children. It could be eaten raw, baked into cakes, or boiled into syrup and used as a spring tonic. A poultice of shredded roots or a boiled extract of stems and branches was used for rheumatism, the leaves were used to treat bee stings, mouth abscesses, and urinary problems. The buds could be boiled in fat to make a nasal salve for sore nostrils caused by colds. Healing salves were made by mixing the ashes of the bark or wood with grease. 
Functional uses for the aspen wood were also many. Aspen logs were used to make Sun Dance lodges, dugout canoes, and deadfall traps for bears.  Poles provided tepee frames and scrapers for deer hides. Knots could be made into cups, and the bark could be made into cordage.
⤞Today, many places here in the West have seen diebacks of these beautiful aspen groves.
❤Aspen trees make me smile, whispering like they do, twinkling in the sunlight and lighting up my days. It doesn't take much to make me happy.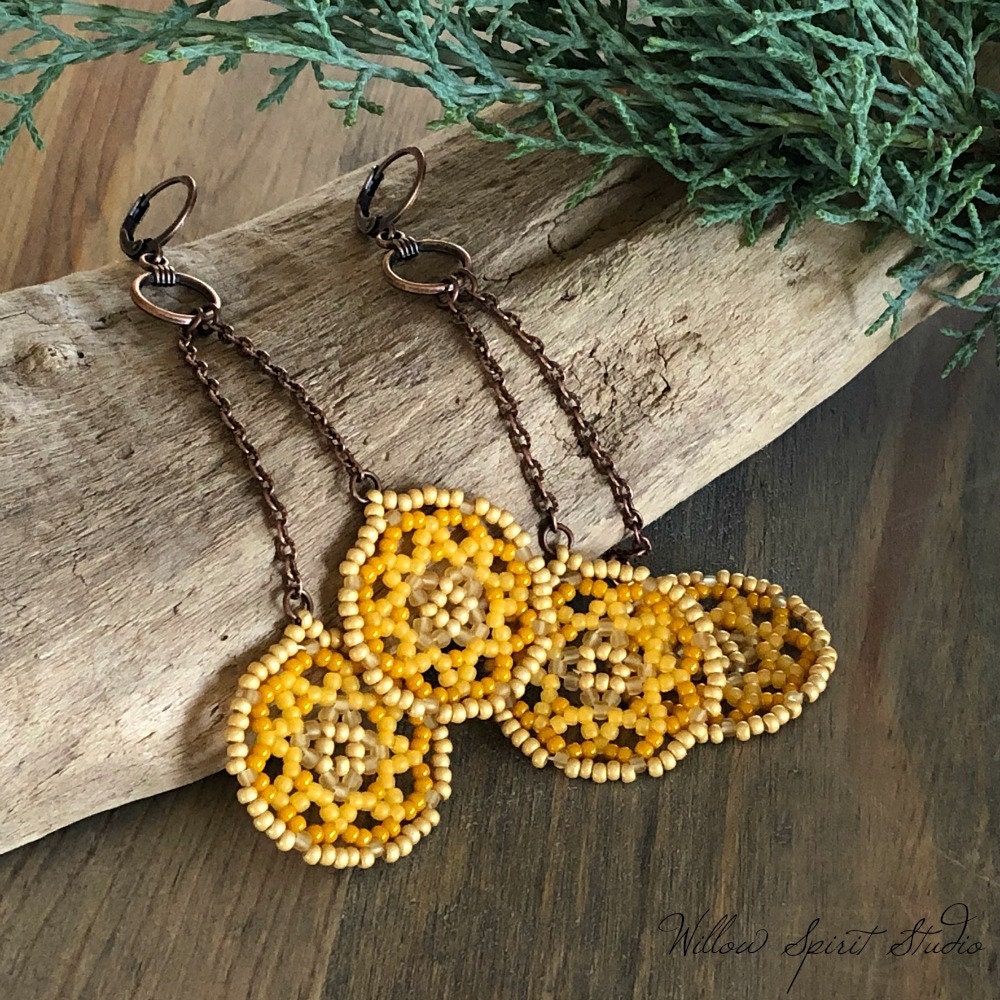 Honestly, I can say that after creating my very first Huichol piece, a veil had lifted. The Huichol people believe that the art you create is manifested into the world at the completion of the project. I like the idea that the flowers and mandala patterns in the pieces I create are now manifested in our natural world.